Cosmetic and Facial Acupuncture is a relatively recent advent that is an enhancement to standard acupuncture.
It provides - 
A natural and holistic alternative to Botox or surgical procedures.
A means of allowing the body to naturally produce collagen to provide anti-ageing benefits.
Increased feelings of well being and vitality in addition to improvement in cosmetic appearance.
A reduction in fine lines and wrinkles.
A rejuvenated glowing look to your complexion.
 How does it work ?
Insertion of very fine needles into the skin triggers an inflammatory response.
This inflammatory response increases localised blood circulation, production of collagen and stimulates muscle regeneration.
This subsequently improves skin elasticity, increases oil and water content reducing lines and wrinkles and gives a "tighter" skin feel.
Additional needle points also trigger more traditional acupuncture points to promote positive wellness areas - digestion, respiration and cardiovascular systems.
What does the procedure involve ?
Exact insertion of a number of sterile one use needles (up to 90) - mainly in the facial area.
The needles remain in place for 20-25 minutes.
Cosmetic Acupuncture Packages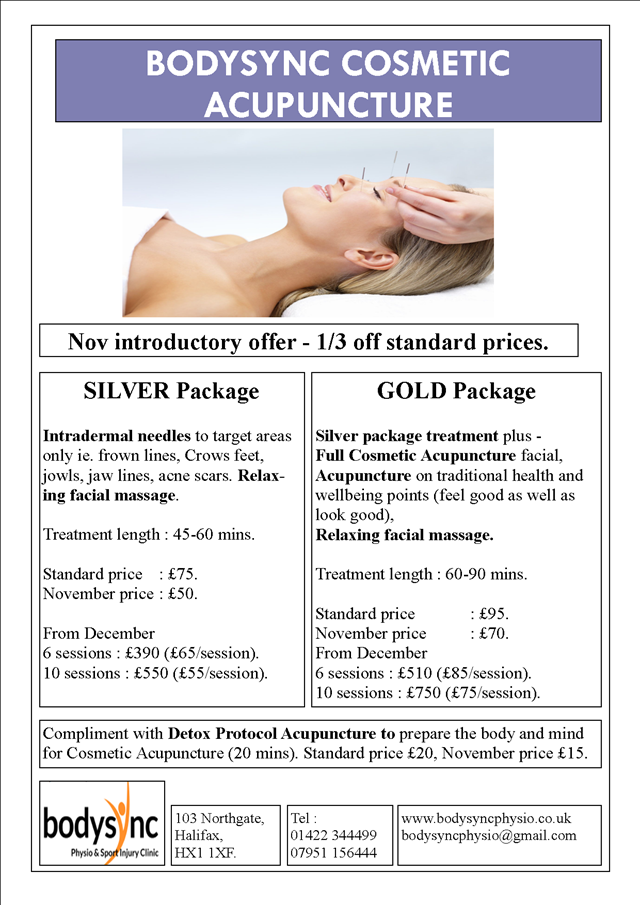 Cosmetic Acupuncture Reviews - 
 "I had my second treatment of cosmetic acupuncture yesterday and I am amazed by the results, my skin is glowing! My lines are much softer and some have disappeared altogether. I can't wait to have my next treatment. This is a great clinic with professional friendly staff...highly recommended 😀" - Rachael Peacock 8th Nov 2019.